Professional 3D Scanning
High quality 3D Scanning with accuracy of 0.100mm (0.004 inches) or better! Using the power of the Artec Eva and Artec Ray, our experts can digitize anything from a full-size building to even the most minor of parts!
Get in Touch
Doing things by hand is not always the right move, be it excessive texture, size, or complexity. This is where 3D Scanning comes in. With high-end 3D Scanners like the Artec Ray and Artec Eva there are few, if any restrictions. Capture incredible detail to recreate just about anything. From incredible detail on buildings and architecture to crash reconstruction, our scanners cover a wide market. 
No longer do you need to rely on 2d images to tell a story. Our experts at 3D Musketeers can take just about anything, 3d scan it, and print it so you can hold a model in your hands to better help you get your point across! In court, in meetings, in proposals, come prepared with every option you can to stack the cards in your favor. 3D Scanning enables this. 
Up Close and Personal
With accuracy of less than 0.05in or 0.1mm our Artec Eva is capable of extreme precision. Being handheld it is capable of getting into tight spaces to capture fine detail in whatever you may need scanned. From custom made dress forms to artistic preservation to even auto accident reconstruction, the Artec Eva is a very capable, portable 3D Scanner to fit your needs! 3D Scans can easily be cleaned up for either rendering or 3D Printing purposes all depending on your needs.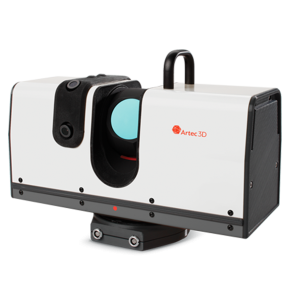 Reach out over 300FT!
The Artec Ray is capable of scanning over 100m or 300ft using high end laser three dimensional scanning and the lidar process to capture incredibly fine detail at distances as short as 3 feet and as far as over 300ft in any direction. Our Artec Ray is capable of showing the entire accident site, large buildings, and more down to the smallest detail. Multiple scans can be compiled to make for more complete data that can then be 3D Printed to assist in telling your story.
From medical to legal, to architectural, to even reverse engineering, the possibilities and capabilities of 3D Scanning are limitless. The three dimensional scanners that are used at 3D Musketeers cover a wide gamut of use case scenarios be it high detail or high range. Perspective is everything, we could scan all of the Raymond James Stadium (Home of the Tampa Bay Bucs!) in a single pass with the Artec Ray and pick up extreme detail on the ship with the Eva. With detail down to 0.04in (0.1mm) and distances over 300ft, few projects are outside our capabilities.
Our key 3D Scanning industries include: 
Forensic Engineering
Structural Engineering
Crash Reconstruction
Architectural Preservation
Personal Injury
And More!
How can we help you? Give us a call or send us an email today to find out! 

WE GIVE REAL SOLUTIONS
Our team of experts have decades of experience working with people just like you with projects as unique as yours. Quit dealing with robots and work with a REAL, actual human to get your three dimensional scans completed in a timely manner. We offer round the clock care and service to help make your emergencies a bit less stressful.

GROW WITH US
We have the machines that keep YOUR projects MOVING. Expand your ideas and business with our collection of over 30 3D Printers designed for maximum efficiency. We offer parts when you need them with no part minimums, to help save you inventory costs. Turn around times as low as a couple of days! Get parts when you need them, fast. 

WE ARE HERE TO SOLVE PROBLEMS
We are a diverse group of people, spread across multiple studies and professions all coming together to help YOU Make Awesome. From Mechanical Engineers to Anatomical designers and yes, even a patent attorney or 4, we are able to solve your painful problems with purpose-built, tailor-made Additive Manufacturing solutions to reduce your risk and increase your chances of success. 
ACTUAL PEOPLE
You call, we answer. No more automated calling trees, no more shop lackeys that cannot answer your questions. Call the experts at 3D Musketeers to get a custom, purpose built solution to your issues. Want more than just a phone call? You can schedule a short, free, consultation here: Free Consultation
Learn What We Can Do To Level Up Your Business
Let Our Customers Speak For Us
As a trial attorney, it can be difficult to illustrate injuries to a jury, especially when they are inside the body, such as injuries to the spine. 3D Musketeers are our go to when it comes to getting models made that we can actually use to articulate our point and get our clients the maximum compensation. I highly recommend them based not only on their products but on their professionalism and quality customer service!
Our Heroes!
We are excited to partner with 3D Musketeers now and in the future! Grant and his team accepted our short notice challenge to produce a quantity of product to our exact specifications. The result was incredible! The 3D Musketeers team is professional, dependable, fun, excited about their craft, and extremely knowledgeable. They are engaging, friendly, communicative, and will make you feel like you are their most important client. We are fortunate to have found 3D Musketeers and look forward to working with them again.
Grant did an awesome job 3D printing my product! He was very responsive and great to work with. Would highly recommend him to anyone for their product development needs.
Thank you so much!
Join Our Growing List Of Clients!