Law enforcement agencies have increasingly relied on 3D printing technologies over the past ten years.
From litigation claims adjusters to forensic anthropologists, discover exactly how 3D printing aids these 7 industry professionals from the law enforcement community!
Litigation Claims Adjuster
An auto insurance litigation claims adjuster called upon 3D Musketeers to provide 3D Scan-to-Print services to aid a car accident investigation and lower their settlement cost in court.
A crash victim suffered from a dismembered limb. The victim was seated in the rear passenger side seat of a Hyundai Tiburon.
While the right rear window was completely missing, the only broken glass at the accident scene was from the front driver window, where the fire department extricated occupants from the vehicle.
A key element is that Hyundai Tiburon rear windows DO NOT roll down.
If that rear window already missing, then could it have caused accidental limb dismemberment? With this evidence, could the insurance company negotiate a smaller settlement?
It makes sense for an auto insurance company to invest some money into proving facts and strengthening the argument in court to drive down the overall cost of the settlement.
That's why the litigation claims adjuster requested crash tests of 5 additional Hyundai Tiburons: Three crash tests at actual speed, one at half-speed, and one at double-speed.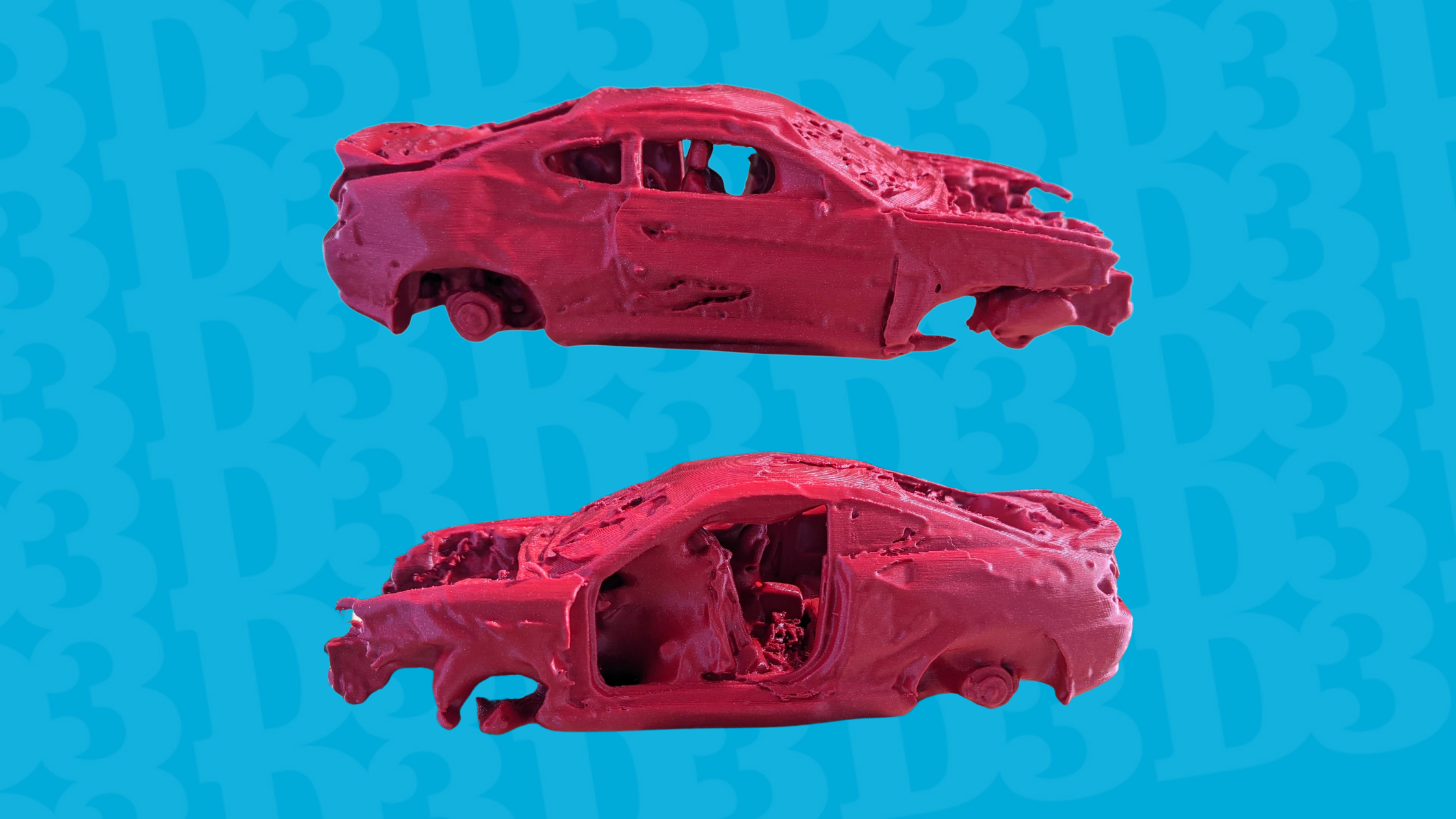 3D Musketeers printed 3D models of each crash test vehicle from data produced by the 3D laser scanners. The insurance adjuster took the printed 3D models of each test to a forensics engineer for analysis. None of the tests could replicate the missing right rear window from the accident.
The lawyer argued that the right rear window dismembered the client's limb, allegedly present before and after the crash, arguing that the lack of glass was due to improper evidence handling from the accident cleanup crew.
There are 3 big problems with that argument:
The rear windows of a Hyundai Tiburon DO NOT roll down.

None of the five crash tests could replicate the accident.

Forensic engineering analysis revealed that the window was already missing.
Although we don't know how that insurance claim was settled, we do know that investing in detailed models potentially provides a strong return on investment.
Clearly, accident and health insurance, property and casualty insurance, and errors and omissions insurance litigation claims adjusters all benefit from 3D printing services.
Crime Scene Reconstructionist
Imagine assembling a jigsaw puzzle… better yet, imagine constructing a challenging adult LEGO® set without being able to reference the box top. Oh, and some pieces are missing!
These are challenges faced by crime scene reconstructionists. These forensics experts must use what evidence is available to them to figure out exactly what happened.
There are 5 classifications of reconstruction types:
Specific Type of Incident Reconstruction

Specific Events Reconstruction

Degree of Involvement Reconstruction

Specific Type of Physical Evidence Reconstruction

Special Areas or Determinations in Reconstruction
In any of these classifications, several types of evidence patterns are used for reconstruction analysis, such as:
Bloodstain and Blood Splatter Patterns

Glass Fracture and Distribution Patterns

Fire Burn Patterns

Furniture Position Patterns

Track-Trail Patterns

Tire and Skid Mark Patterns

Clothing or Article Patterns

Modus Operandi and Scene Profile Patterns

Weapon-Specific Markings on Projectiles

Post-Muzzle Markings and Trace Evidence

Shell Casing Ejection Patterns

Vehicle Dynamics in Accident Reconstruction
One of the best methods for preserving the physical evidence for crime scene reconstruction is… no, not just photographs. 3D scans!
3D scanning is a noninvasive and nondestructive method of preserving the entire crime scene with a high level of accuracy. Any crime scene can be replicated with exactness before evidence collection, thanks to 3D scanning technology.
3D scanners are especially valuable in the collection and preservation of fragile or transient evidence such as:
Teeth Marks

Skeletal Remains

Fire Accelerants

Shoe and Tire Impressions

Gunshot Residue and Patterns

Barfoot Impressions in the Ground or on Blood
3D scans can become 3D-printed objects which demonstrate miniature architectural scale models, actual-size scale models of evidence, or enlarged models to demonstrate finer details. All of which can assist crime scene reconstructionists to piece the puzzle together.
3D print models help crime scene reconstructionists solve crimes and serve as demonstrative evidence.
Could you imagine how the OJ Simpson trial might have been different if forensic teams utilized 3D scanning and printing?
Have you ever broken a vase and tried to put it back together with superglue? Did you try to match each delicate ceramic piece to the correct fracture line? That is what a trace evidence examiner does during physical fit analysis!
A physical test analysis (PFA) involves finding matches between fragments of trace evidence.
'Trace evidence' is remnants from objects that have come into contact with each other such as fibers, flakes of paint, bits of glass, or bone fragments. Trace evidence examiners analyze those pieces to determine the origin of the object and form connections between scenes, place suspects at the crime scene and reconstruct the crime.
"A positive physical fit indicates that two or more fragments have originated from the same object. Confirming physical fit at a crime scene is essential to draw links between locations, place suspects at the scene, and allow for object reconstruction."

– Dr. Katherine Brown, Senior Lecturer, Institute of Criminal Justice Studies, University of Portsmouth
Physical fit analysis, fracture match analysis, and tool mark-related examinations require manual handling of trace evidence which is particularly fragile. Some even pose a biological or mechanical hazard to examiners.
3D printing technology reduces the risk of damage and contamination by limiting the manual handling of fragile trace evidence, which preserves the integrity of the evidence.
Researchers at the University of Portsmouth Institute of Criminal Justice Studies found that fused filament deposition (FFD) 3D printing is accurate and creates sufficiently detailed physical replicas of bone fragments to perform physical fit analysis PFA, and bone fragment reconstruction.
3D printing offers trace evidence examiners a reliable method for safely handling hazardous evidence, enlarging microscale evidence up for ease of handling and presentation, even minimizing larger and heavier evidence down to more manageable models for ease of transportation.
3D printed replicas of trace evidence also open up the possibility of demonstrating physical fit and fragment matches in court.
Facial Reconstruction Sculptors
Facial reconstruction is a subfield of archeology and forensic anthropology that combines science and artistic skill with the goal of identifying people of the past or suspected victims to bring closure to grieving loved ones and to solve criminal investigations.
The victim's family, friends, or acquaintances are required to visually identify the victim's face, but sometimes the face is unrecognizable due to decomposition, destruction, or blunt force damage.
When conventional methods of positively identifying a person (dental records, radiography, DNA analysis) are infeasible then forensic teams rely on a forensic artist.
Traditionally, facial reconstructionist sculptors use facial approximation to add clay, plastic, or wax directly to the victim's skull to replicate facial tissue thickness, muscles of mastication, lips, subcutaneous fat, skin, and facial expression.
There are a few drawbacks to this method:
Bone is porous and fragile.

Manual handling of human remains in some cultures is unethical.

Facial tissue depth varies for different sexes, ethnic groups, ages, and regions of the face.

Using the average thickness of the soft tissues may not sufficiently represent the victim to the point of positive identification.

To create variations of the tissue depth, hair, nose, or ears the sculptor would have to make modification after modification, which could inherently damage the skull.

Even to make castings of the skull with gypsum, the original skull can still be damaged due to excessive handling.
Luckily 3D printing technology provides the optimal solution for creating detailed replicas of the human skull.
Although traditional gypsum skull replicas have better surface quality in comparison, the level of detail that 3D printers can bring to key features of skull replicas (e.g. eye cavities and denture geometry) far exceeds that which can be produced by a gypsum skull replica. 
The benefits of utilizing 3D printing technology for facial reconstruction are clear:
There is less manual handling of fragile evidence.

Less potential for damaging such evidence.

Preservation of evidence.

3D printing requires little supervision once started.
3D printed human skulls in combination with the Manchester method provide facial reconstruction sculptors with an easily reproducible, highly-detailed, and cost-effective method for creating several variations of a facial reconstruction that increases the likelihood of positive identification of the victim.
Defense POW/MIA Accounting Agency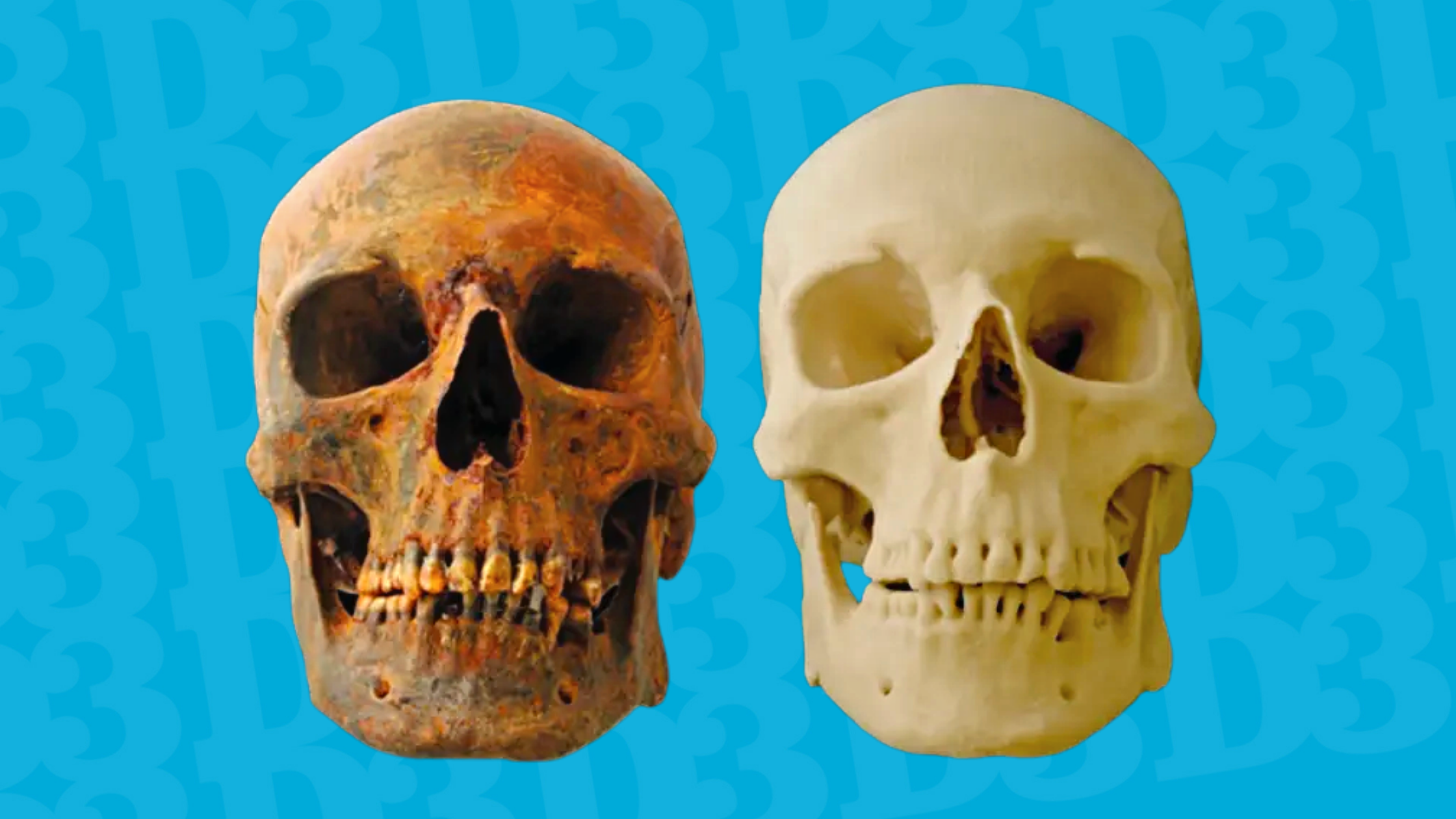 It is the critical mission of the United States Defense POW/MIA Accounting Agency (DPAA) to find and identify service members who were Prisoners of War (POW) or Missing In Action (MIA) from all wars and conflicts.
Forensic scientists at the Central Identification Lab of the DPAA combine traditional methods of positive identification with modern 3D printing technology.
In-between identifying fallen service members, this team actively works toward refining their process through practice with 3D printed skulls from CT scans of living humans.
3D print models of skulls produced by a ZPrinter, a multicolor printer with unparalleled accuracy, have no statistically significant difference between measurements of the original skull and its ZPrinted model.
Skulls reveal sex and race, but digital images of unidentified remains superimposed onto 3D prints of skulls compared to photographs of known service members will reveal much more.
Thanks to this technique, fallen service members can be identified, give families closure, and finally lay their remains to rest.
Trier of Fact: Arbiter, Judges, and Jurors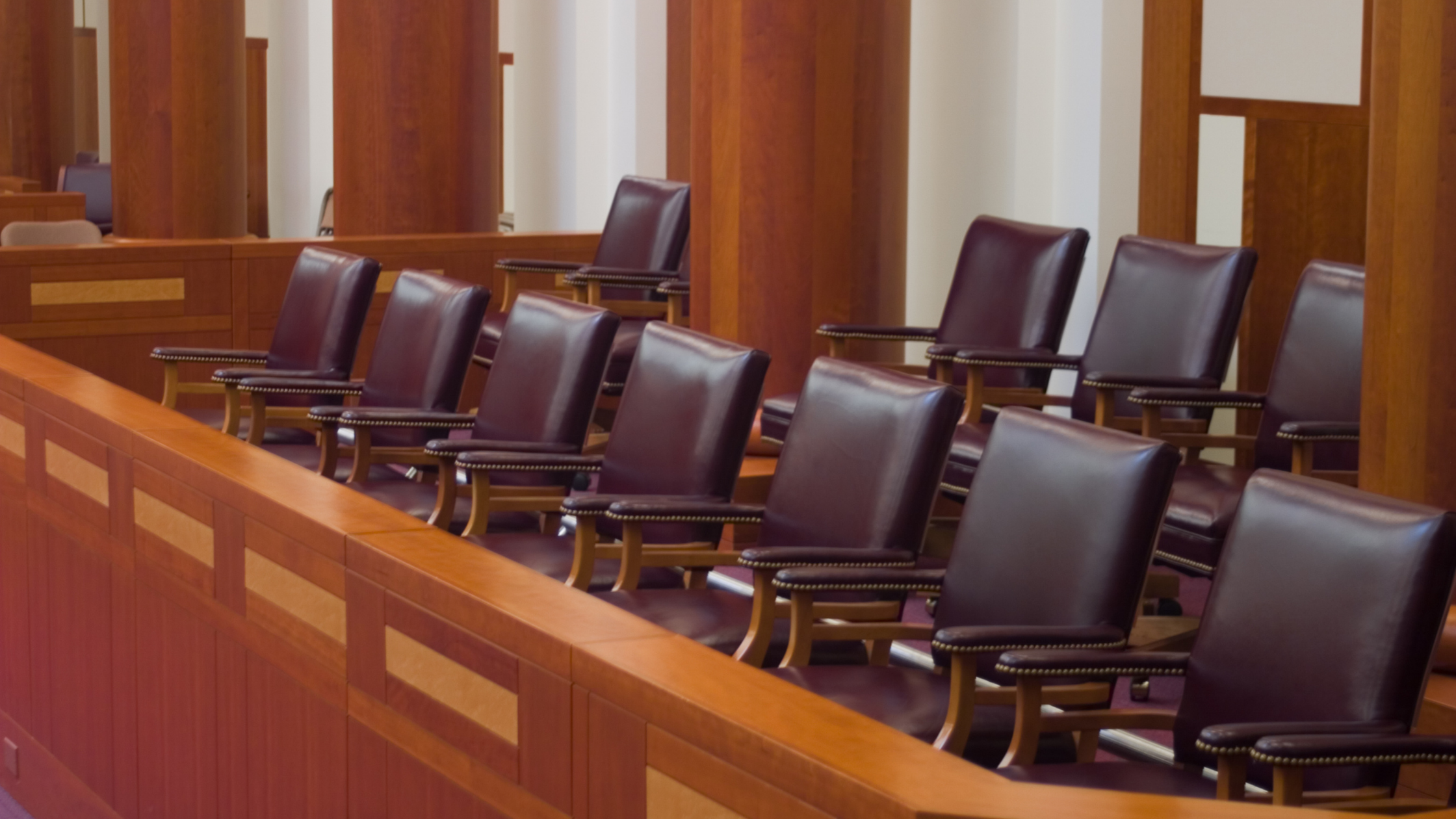 Of all who need 3D printing technology in law and justice, one who benefits the most is the trier of fact: arbiters, judges, and jury members.
Evidence presented to arbiters, judges, and trial jurors must be admissible: relevant, reliable, and not prejudiced.
Actual evidence, especially trace or transient, can be problematic to present due to the risk of biohealth hazards, fragility, the morality of handling (human remains), and the possibility of inflicting emotional distress. Even documentary evidence such as photographs or CT and MRI scans of human remains could bias a jury.
3D printed demonstrative evidence increases admissibility by lessening the gruesomeness of traumatic injuries and preventing the jury from looking unfavorably at the opposing party (eliminating bias) while still conveying pertinent information and upholding the required standards to a fair trial.
3D printed evidence does not require nitrile gloves to handle and does not risk contact with bloodborne pathogens or other biological hazards.
When judges and jurors can demonstrative evidence as a 3D-printed object during courtroom demonstrations, it increases their understanding of:
Complex anatomical relationships;

Radiographic data;

Medical or technical jargon;

Science-intensive language;

Spatial relationships; and

The sequence of events.
This experience creates a strong impression and maximizes retention of information to the memory through active trial engagement.
"There is a special need for techniques that allow pathologies to be presented clearly in the courtroom. For medical laymen such as judges, lawyers, and especially relatives of murder victims, the presentation of autopsy photographs can be disturbing, making findings difficult to present this way. From a juror's perspective, being able to see such an object which is much more familiar than trying to interpret radiographs allows for a better spatial appreciation and understanding of injuries. Unlike volume renderings, 3D printed models offer real three-dimensionality as well as a haptic component, which make it easier for medical laymen to understand."

– Eugene Liscio, President of the International Association of Forensic & Security Metrology (IAFSM)
Admissibility, safety, and fairness are critical factors in presenting evidence to arbiters, judges, and trial jurors.
3D printed demonstrative evidence eliminates bias, protects fragile actual evidence, eliminates biological and emotional hazards, and neutrally presents facts while increasing memory retention, engagement, and overall understanding.
3D laser scanners in conjunction with 3D printing technology aid law enforcement personnel with forensic investigations, forensic reconstruction, and 3D reconstruction of skeletal remains.
Likewise, 3D scanners and printers help insurance adjusters resolve complex claims.
Crime scene models, anatomical models, and other 3D print replicas help to bridge the communication gap between medical examiners arbiters, judges, and trial jurors.
Our experts at 3D Musketeers can scan any physical model and 3D print an accurate surface model to support your police investigations, litigation services, and courtroom demonstrations.